For many years, I've kept my own journals to capture my own spiritual progress and record the patterns weaving in and around my life. When I look back, I can see how I've grown, and I appreciate the important lessons I needed to encounter along the way. During these unprecedented times, I find myself needing to record my thoughts and feelings more, as though I am drawn to the need to record them. My mind goes round and round trying to make sense of what is happening right now, not just in the USA, but all over the world.
The spiritual discipline of journaling is meant to be so much more than just a record of events. It's a way to relish time with your self in quiet contemplation and reflection, and it will help you connect with your soul on a deeper level.  It's a bit like a meditative conversation with your inner-self. It can also be a cathartic time, where you're able to work out your response to what's going on, and hopefully find comfort from within. If you've never made time to keep a journal before, maybe this is the ideal time to start. I like to call my journal, a Soul Journal.
So, here are a few of my tips to start your own Soul Journal:
Write in your journal around the same time every day and preferably in the same place. I find the early hours of dawn quite inspiring, but you can choose to write whenever it's right for you. I rarely journal after watching TV or certainly after watching the news, as my mind is too heavily influenced by the outside world.
When you're able to get outside, take your journal on your travels so you can record information about the people, places and experiences you encounter.
There's no need to show your writing to anyone if you don't want to. This is for you and your soul, a safe place to share yourself with the Divine Source.
There's nothing too small or too insignificant for your Soul Journal. It all counts.
Record as many happy thoughts and past memories as you can—that way when you're feeling down or low or need inspiration, you'll have them on hand.
Here are a few more ideas of other things you can record in your Soul Journal:
Jot down how your day went. Did you learn something new about yourself or someone else? Include any new insights you want to share about yourself. If like me during this time, you're learning a lot about yourself you never realized before, such as thougtfulness, compassion, care, tolerance, patience, self-care, as well as how to cope with isolation, etc.
Begin to record your personal goals and desires for the future, even if it's a new and brighter future than the one you envisaged before.
Write down affirmations that really inspired you, or make up your own.
Include any current prayers, or keep a record of the ones that were answered.
Record inspirational words of advice that someone might have given you, your nightly dreams and meditative insights.
Make a note of new discoveries as you read back what you've written in the past.
Start a list of what you're grateful for.
Add any symbols, drawing or images that you feel are coming to you.
Keep track of synchronicities, along with psychic and intuitive impressions.
JOHN'S MESSAGE                                                                                                  
When you practice spiritual journaling, the real you will begin to emerge. Your thoughts take on greater clarity and you gain accessibility to some of those unanswered questions as you reach deeper within yourself. Try not to overanalyze everything, just get out of your own way and be honest with the Divine Source as well as yourself.
If you'd  like to share your personal story about how spiritual journaling has helped you get through this difficult situation, please share it with me and my Facebook community.
Equally, if you want to share this newsletter with anyone you think might might appreciate reading this, feel free to share this Soul Inspirations or recommend they join our community.
Live a Soul-filled life!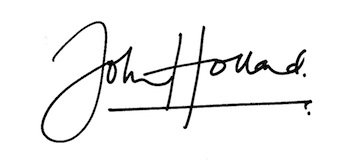 ---