What makes you feel threatened?
The Practice:
Don't be intimidated.
Why?
Humans evolved to be fearful, since anxiety helped keep our ancestors alive. Consequently, we are vulnerable to being alarmed, manipulated, and even intimidated by threats, both real ones and "paper tigers."
Has there ever been a time in your life -- a period of real self-enriching growth -- that wasn't connected to a risk you either willingly undertook or -- to a time of inner trial where there was no other choice for you but to take a risk? Of course, there's only one answer to this question, and it's one recognized as being true wherever you may ask it in the world: The prize of greater wisdom and inner strength always goes to those who take, in one way or another, the risk.
Taking conscious risks can be such a powerful catalyst for inner change. A conscious risk involves making a choice to do what's true, in spite of what that choice may cost you. On the other side of any conscious risk is the realization that who you really are has nothing to fear. But, in order to make this self-liberating discovery, you must willingly face those fears, whatever they may be. 
What do you do when you face difficulties in your life? 
It's a question all of us need to answer because we all face them. It's not a matter of if you'll face difficulties, but when.
You can't avoid these circumstances, situations, or conditions. They will come to you at some point in your life. Today, I'd like to talk about different scenarios you might face with a few case studies, including my own. 
More than that, though, I want to offer you some tools to face these challenges and come out the other side stronger than when you began. These dark times come into your life, but they don't need to keep you from your dreams or from living into your purpose.
Most of us lead very busy lives and it is easy to become overwhelmed with all we need to do. In addition, about 15% to 20% of us are born with highly sensitive nervous systems that are far more reactive to having a lot to do than the general population. Since I have a very highly sensitive nervous system, I understand how easily some of us can become overwhelmed by the demands of life. I have learned some powerful tools for managing overwhelm that I will share with you as I answer the following questions about overwhelm.
We're visited by negative states so often, most of us have come to take them for granted as an expected part of living.  Such as:
"Yesterday wasn't too bad, but today I woke up on the wrong side of the bed and I'm in a bad mood. I feel a little down, probably because my boyfriend didn't respond to the text I sent him at 3:00 in the morning. But,isn't that natural?"
Having frequent bad moods is common, but that doesn't mean it's natural.
Blaming your boyfriend – or anything else – for the way you feel is also common. It's the answer you give yourself to the question of why you're in a bad mood this morning.
But here's a more important question: What's the real reason why I'm in a bad mood so often?
The Answer to Why Our Bad Moods Are So Frequent
Just as with anything else we spend a lot of time with, we spend a lot of time in negative states because we value them.
Do the holidays delight you, or do they fill you with dread? For many people, the holidays are fraught with emotion and difficulty. 
Whether it's enduring mealtime with a dysfunctional family or facing feelings of loss and loneliness, the holidays can be stressful and disruptive to your body, your emotions, and your routines.
Emotional baggage of past holidays and unresolved issues between family members can turn holiday gatherings into disasters. While you may or may not be able to resolve issues with others, you can take steps to heal your own emotions.
Energy healing tools such as The Emotion Code® are designed to help people let go of Trapped Emotions, emotional baggage from difficult and traumatic events. Working on yourself, or with a certified Emotion Code practitioner, you can identify troubling emotions that have become lodged in your body and release them forever. This makes it easier to forgive others, and yourself, so you can celebrate the season with greater joy.
In addition to clearing emotional baggage, here are additional tips to make the holidays more joyful, calm, and bright:
Nearly everyone I know right now is grieving someone or something.
The number of critical illness diagnoses, family and friends dying from cancer, love lost, and so much more seems to be at epic proportions.
The other day I found this beautiful post on my Facebook feed and felt compelled to share it all of you who may be in state of grief. I hope you find some solace in this.
Living with a Broken Heart by Gary Sturgis – "Surviving Grief"
Remember what the Tin Man said in the "Wizard of Oz" after he finally got a heart….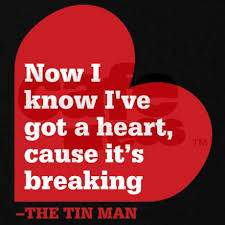 "Now I know I've got a heart because it's breaking."
Vent, Reflect, Think Positive, & Resolve for Your Emotional Health
---
Getting cut off in traffic. Receiving that raging email. None of us like to have things like that happen. But when they do, how do you handle it? Do you smile and hope it all just goes away? While it might blow over sometimes, other times that's just not enough.
When you are in a highly charged emotional state, you have to express your feelings. Otherwise they will soak into your energy system, causing more problems later and making it tougher to get them out. It's kind of like spilling red wine on the couch. You better get it up right away or it is most likely never coming out!
Are you holding onto feeling wronged?
The Practice:
Forgive.
Why?
Forgiveness is a tricky topic.
First, it has two distinct meanings:
To give up resentment or anger
To pardon an offense; to stop seeking punishment or recompense
Here, I am going to focus on the first meaning, which is broad enough to include situations where you have not let someone off the hook morally or legally, but you still want to come to peace about whatever happened. Finding forgiveness can walk hand in hand with pursuing justice.
We have all done things that we felt bad about and judged ourselves for.
Whether it was:
Bad relationship choices.
The way you handled a break up.
Unwise financial decisions.
What are you still judging yourself for?
Maybe you have been holding yourself hostage, thinking you are a bad person or that God is judging you?
Consider this:
God doesn't forgive.
Because God never judged you.
And if this is so, then why are you still judging you?
We are living in intense times.

It's easy to let external circumstances hijack our ability to be present and instead live in fear.

During these times, you, yourself, or you might have friends, who seem to be stuck in fear-based thinking and living.

This can be very challenging, especially if you're someone who is committed to living with an open heart and boldly.

I was recently asked the question, 'How do I help my friends around me who seem stuck living in fear?' So I decided to share my response in a video blog. I hope you'll find it valuable and share it with all of those love.
Through accessing our spiritual guidance and learning to love our wounded self, we CAN heal anger, fear, shame and judgment.
---
Our wounded self is our dark or shadow side, not because it is bad but because it is cut off from the light of God. It lives in the darkness of fear and the heaviness of false beliefs instead of in the light of love and truth. Moving toward "enlightenment" is moving into the light of truth from our spiritual guidance. When we heal our fears and false beliefs, our energy lightens. We may even hear from others, "You seem so much lighter!"

Doorways to Darkness

Just as the light of God enters our hearts when we choose to open to love, the darkness enters when we choose to close our hearts and act from anger, fear, shame, judgment or hurt. This is what happened in The Return of the Jedi, the last of the original Star Wars series. In this movie, the emperor, who was the epitome of darkness, was trying to get Luke to join the dark side. He knew if he could just get Luke angry enough or frightened enough, he would want to kill his father, Darth Vader, and then the emperor would own Luke as he had owned Luke's father. The emperor knew that anger and fear were the doorways to darkness.

Our anger, fear, shame, judgment and hurt are the cracks in our energy field through which the darkness enters. The darkness can also enter when we cloud our energy with drugs, alcohol, nicotine or sugar. Do you recall the trial in San Francisco that employed the infamous "Twinkie defense"? About twenty years ago, the mayor and a city supervisor were shot down inside City Hall and their killer got a short sentence because of his "diminished capacity" due to having eaten a diet of only junk food.

In one of my dialogues with my spiritual guidance, she challenged me about darkness. She said, "Margaret, you have worked for many years to be physically healthy. Not only that, you have striven to be immune to illness. Likewise, for many years you have sought to become a more loving person. Now your task is to become immune to darkness." I was blown away. Becoming immune to darkness means never acting out of my wounded self's feelings of fear, anger, shame, judgment or hurt but always moving into an intent to learn about these feelings as soon as they come up. I can tell you, it's quite a challenge! I don't know if I will ever accomplish this, but it certainly is a worthy goal!
What is behind the fear of unwanted change? The uninvestigated mind says that I'm going to sustain a loss: "he's going away," "the business is slipping," etc. The fear of loss is connected in our mind with the image of what had previously given us the feeling of succeeding. So now here's reality, and it's pretty different than our image of what should be, and we'd rather live with the image than look at reality. But the fact of the matter is, we can see clearly now that something "bad" has happened to us and there is this sense of loss.
Why is that loss so traumatic to us? Because that loss, if it's real, means that we're going to have to literally reorient ourselves to life. That's why we don't want the loss. It's because the present relationship that we have imagined defines us in our world. We are defined by our relationships, and if a relationship starts to change, the way we're defined in life and the way we know ourselves starts to change. And we don't want that. We don't want anything we have imagined to be real to show us that it's not, because the super-structure of our self as it stands is rooted in this imagined life from which we derive these feelings of security as we imagine ourselves in it.
Release Repressed Emotions to Feel Better Fast

---
Have you stopped to think how much your emotions influence your health and well-being? I discovered this myself in very dramatic fashion about 15 years ago.
Like many women, I was exhausted, frazzled, and over-committed while caring for my family — but I wasn't caring for myself. I kept pushing hard, and pushing down my emotions. Depression and apathy had a grip on me that I couldn't shake. I did not realize how much I was suppressing my feelings until it hit me like a lightning bolt one day.
Losing someone you love is never easy. Saying goodbye to a parent is like bidding farewell to a piece of your soul.
Everyone grieves differently, and there's no timeline for when you should start feeling better. However, the world doesn't grind to a halt to let you mourn as much as you wish it might. You need to nurture yourself during this time. Here are five healing tips to help you get through a parent's death.


1. Give Yourself a Break
If at all possible, give yourself time to mourn before resuming your regular responsibilities. Doing so can prove challenging, depending on your circumstances.
If your employer won't grant you time away, or you can't afford to take it, clear your calendar of any responsibilities you can safely shed. Talk to any organizations that you volunteer with to explain your absence. If you were planning on something like going back to school, postpone it if possible.
If you were empowered to change life -- in order to give yourself whatever is always good and true for you to know and have -- would you ever make any other kind of changes? For example, would you fear unexpected events, such as a loss of any kind? No! Even though they may come as a surprise, you already know that they herald a new beginning of something better.
Would you resist the passage of time and the slow changes that grow out of it like branches on a tree? No! You already know that patience and willingness to persist through what is being revealed -- even if momentarily bitter -- will bring only sweeter fruits.
Most of us want to experience inner peace and joy, rather anxiety and depression. There are choices you can make to consistently experience peace and joy.
---
Inner peace and joy are spiritual gifts. The gifts of spirit enter the heart when we make the choices we need to make to be available to them. What are these choices?

Presence

Peace and joy exist in this present moment - not in the past or future. If you are in your left-brain ego programmed mind - your wounded self - you are likely thinking about the past or the future with a desire to have control over something. The moment you are out of the moment with a desire to control, you cut off access to the spiritual gifts of peace and joy, as well as to the gifts of love and truth.

Gratitude

The heart needs to be open in order to receive the gifts of spirit. Nothing opens the heart faster than deep gratitude - gratitude for your life, your soul's journey, for the body your soul lives in, for the food you eat, for friendship and caring, for shelter, and for anything else that you are blessed with - eyes that see, ears that hear, arms, legs, health, and so on. Being truly grateful for your particular blessings opens the heart to the gifts of spirit.
Sudden, unexpected, horrific or repeated types of negative incidents in life can all lead to the development of trauma.
Many people think of trauma as something that causes immediate changes in a person's level of comfort, ability to feel safe, and constant feelings of fear or anxiety in specific situations or locations.
All of these can be true, but trauma and its effects are not all that easy to pinpoint. For some people, the effects of trauma may not occur for weeks after the event, and they may build gradually over time if the trauma is the chronic type of repeated stress such as living in a chaotic or unsafe environment or dealing with bullying or abuse.
Besides the obvious reactions to fear, stress and atypical negative events in life, it is also essential to be aware of three other lesser-known symptoms of trauma.
In this life, we have one of two choices when it comes to painful events, past or present. We can either go on hating and fearing what we think life has done to us (or others), and let these negative reactions create our experience for us ... or we can learn to use these same dark reactions to free ourselves from them. But just wanting to learn the truth isn't enough; we have to be willing to see the truth if we want its liberating touch.

Hating the past and blaming it for the pain we're in now seems to justify our continuing suffering. But whatever justifies blame and hatred is, itself, a part of – in league with – these negative states. 
Are you curious about wholeness and true healing? 
Do you desire to "heal" something for yourself...be it physical, mental, financial, or maybe a relationship? Do you have a desire to support people you love, the planet, or shifts happening for humanity right now?  
It's a common desire...the desire to heal. It's what we've so often been taught—something needs fixing. The truth is, you, we, are already whole. There is nothing to heal. 
The frustrations and the angst that continue to rise for so many are energies that have been stored on the inside—packed away in the subconscious. We were previously able to override those energies that felt uncomfortable, any sense of dis-ease. However, overriding those energies doesn't dissolve or integrate them to reveal wholeness or resonance. 
For wholeness to happen, we have to land in the Soulful Self, in the truth of who we actually are.  
Weekday Personal Support
Join Panache Desai each weekday morning for support in reconnecting to the wellspring of calm and peace that lives within you and that has the power to counterbalance all of the fear, panic, and uncertainty that currently engulfs the world.
Designed To Move You From Survival and Fear to Safety and Peace. Available Monday - Friday. Meditation begins at 9 AM.  Access early to hear Panache's monologue -  around 8:30 AM. 
Join Soulspring for conscious insights...
...on all things life, wellness, love, transformation and spirituality...
 PLUS! Get your FREE Guide: 12 Mindfulness Practices to a Peaceful Mind