Nearly everyone I know right now is grieving someone or something.
The number of critical illness diagnoses, family and friends dying from cancer, love lost, and so much more seems to be at epic proportions.
The other day I found this beautiful post on my Facebook feed and felt compelled to share it all of you who may be in state of grief. I hope you find some solace in this.
Living with a Broken Heart by Gary Sturgis – "Surviving Grief"
Remember what the Tin Man said in the "Wizard of Oz" after he finally got a heart….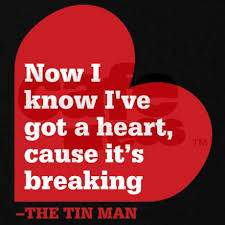 "Now I know I've got a heart because it's breaking."