Are you thinking about making some changes in your life? Maybe you're planning to move to a new city, try a new career or pursue a new relationship?
Whatever it is you want to manifest in your life, here are two tips to get you started: 

Have a clear mental picture of what you want.

Have a passionate desire to bring what you want into your life.
Remember: "The soul never thinks without a mental picture."
When you have an image followed by the emotion of joy and excitement, as though what you desire is happening here and now, you open yourself to the universal energy – the Divine Source – that will assist you in fulfilling your aspiration or desire.
By visualizing what you truly desire and bringing in the positive, joyful emotions as if your goal is already happening, you stand a far better chance of your soul meeting your goal half way. If it's for your highest good, and that of others – then you, your soul, and the Universe can all work as partners in your manifesting.



JOHN'S MESSAGE                                


This week, experiment with the practice of manifesting. Choose one thing. Perhaps a butterfly, a certain bird, a particular book, or a coin. (Try a quarter!) Take a few moments and imagine you're seeing the object in your mind. Then reach out with your imagination and see yourself holding the object. What does it feel like? Notice the texture, the details and even the smell, and bring in the feeling of joy as you imagine you already have the object now in the present. Soon the Universe will conspire to bring you what you visualize. Manifesting really does work.
Last summer, I tried this experiment for myself. One of my favorite things is taking a boat trip. I love the freedom, the sun and the wind, and always feel invigorated after being out on the ocean. When summer was almost over, I realized I hadn't been on a boat yet. So, I decided to practice what I teach! I pictured myself on a boat, and brought in all the joy and sense of freedom that comes with the feeling of being out there on the open sea. I even imagined it as if it were happening right then and there.
Well, it must have worked! Two days later a friend of mine called me and said that a family member was about to take the boat out again before the end of the summer and asked if I wanted to join them. Of course, I accepted the invitation. There was even a bonus—the trip included a delicious lunch!
The more you practice – the better you'll get at manifesting what you want to bring into your life for your highest good. Start small. As you get the hang of it, you can move on to bigger things.
I'd love to hear about your stories, so please share them on my Facebook and Instagram pages.
If you know someone who may like to get this message, feel free to share this Soul Inspirations or recommend they join my newsletter list.
Live a Soul-filled life!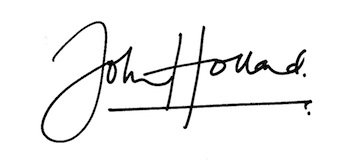 Learn to Communicate with your Loved Ones on the Other-Side
"Your soul is constantly sending you messages of healing and guidance in the form of signs and symbols. 
Once you learn to recognize these messages, and act on them ... a whole new world will open up for you!" 
JOHN HOLLAND - Spiritual Teacher & Psychic Medium 
Bridging Two Realms: Learn to Communicate with Your Loved Ones on the Other-Side