You never know when inspiration is going to come knocking at your door.
My colleague and fellow Hay House author Sonia Choquette is one of the most inspiring and motivational speakers I have ever witnessed. I've seen her lecture to packed auditoriums all over the world. Her principle is: Move your body – to move your soul. Even the most inhibited people who would never dare to stand up with everyone else and dance, are encouraged to get to their feet, move their hips, and shake every inch of their body!
It's amazing to watch Sonia call upon a sad soul who has low self-esteem, someone who's riddled by the fear of being noticed, and how she intuitively tunes in to their positive traits. She exudes a positive belief, and manages to bring them to the front of the stage and then gets them to sing, dance, or even yell at the top of their lungs. People walk away with their soul literally vibrating. If we could all just feel that way, I believe we could change the world.
Try to be around people who inspire you, challenge you, and encourage you to step out of your comfort zone. After all, these people are likely to give you the strength and courage to reach further than you've attempted to reach before. You really notice this when you work with like-minded people, as it's so much easier to blend and resonate with each other, not just mentally or intellectually, but with your heart and soul.
Inspiration fills you with energy and a sense of power and purpose. It is a powerful force that will motivate you to push yourself further. These are the times when a goal or a desire is actually within your reach!
If you've been suffering from boredom, feeling listless and tired, or just not caring about anything or anyone, then most likely you're feeling a sense of desperation to change something. And inspiration can be that catalyst for change.


JOHN'S MESSAGE                                                                                                               


Be daring this week! Challenge yourself! You may want to even try something new or something scary that pushes you outside your comfort zone. It could even be something you always wanted to try, but never had the nerve or the time to do.
When you feel inspiration filling you with positive energy, you'll realize that you can, in fact, change. When I'm nervous about doing something, I just tell myself, "I can do this!" Everyone's different. Focus on what you love doing and before long, your soul will start to sing and help you reach your full potential.
What inspires you? Is it music, dancing, singing, drawing or getting back to nature? Let me know in the Comments section on my Facebook page. No matter what it is, you'll know it when you find it! Give yourself the opportunity to change, to make your life better, to make even more of who you really are.
Don't forget, you can always phone into my Spirit Connections radio show.
Live a Soul-filled life!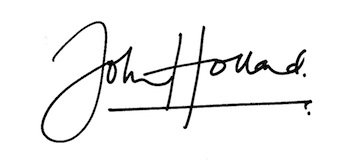 Learn to Communicate with your Loved Ones on the Other-Side
"Your soul is constantly sending you messages of healing and guidance in the form of signs and symbols. 
Once you learn to recognize these messages, and act on them ... a whole new world will open up for you!" 
JOHN HOLLAND - Spiritual Teacher & Psychic Medium 
Bridging Two Realms: Learn to Communicate with Your Loved Ones on the Other-Side