Music can come in handy in dealing with life from a positive perspective.
Whenever we listen to good music, it changes our zone. Music is one of the healthiest stress relief measures as it transports us into a different state of emotions according to its nuances. Music affects our minds and bodies in so many different ways and we need to realise and understand that it can be used as an effective stress management vehicle. 
Physical relaxation
Music actually promotes relaxation of tense muscles enabling you to release tension from a stressful day or week. Relaxing your body while listening to music helps release tension in a fun way and puts one in a stress-free zone.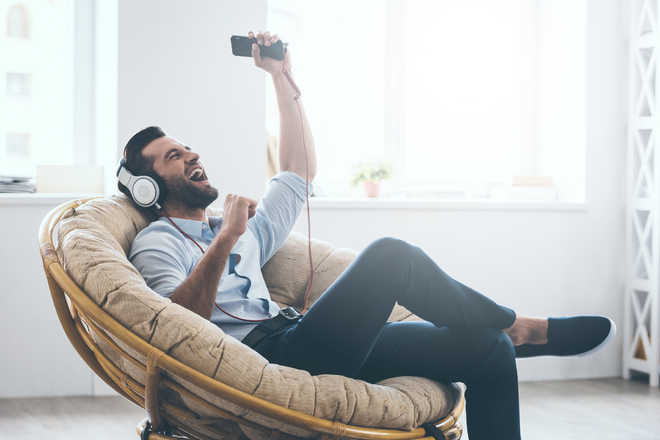 Music & meditation
For those who feel meditation is tough to get into, listening to music is an excellent way to relax and slowly get lured into the meditative state. 
Music promotes positivity
Upbeat lives are happy lives. Even if you are not in a good mood you feel obliged to switch mental channels and feel better.
Music empowers you
You can start feeling positive and motivated and feel the urge to do something spectacular. As we notice happy songs inspire you to feel joyous, to dance and feel a natural high. It also helps you to notice more opportunities in life. It can change your life for the better. 
Mood enhancer
For a quick change of the mood, music is what is required. If you are on low emotional ebb, listen to some live and peppy tunes and there you are feeling so much better.
Helps to focus
By relieving stress, whatever is the prime desire in life comes into the forefront and is in a better state of focus, hence you can deal with it in a better way.
Affirmations & music
When we try to affirm positive phrases by using music to accompany them, we will create a firmer impact on our own minds. Music gives us a double benefit, by helping us to surround ourselves with positive energy. 
Music therapy
This is a new field which is growing rapidly.  It is consciously used in clinics in many countries as a way of calming the mind and warding off depression. It is also used in pain management and to ease tense muscles. Since the main goal of a human being is happiness, music helps as one of the most important facilitators for promoting this. Allow it to lead you on the road to a stress-free living.
(Singh is a Chandigarh-based psychotherapist)


Reprinted from The Tribune India with permission.